Welcome To The Stooshe Wiki!
Stooshe
 are an English girl group from London, consisting of members 
Alexandra Buggs
, 
Karis Anderson
&
Courtney Rumbold
. They released their first promotional single, "
Betty Woz Gone
", in October 2011. It was announced on 5 December that Stooshe had been nominated for the BBC's Sound of 2012 poll.
Their official debut single, "Love Me" featuring American rapper Travie McCoy, saw the group attain chart success, with the single peaking at number five on the UK Singles Chart. They released "Black Heart" in June 2012, which peaked at number three after a month in the top ten. A cover of TLC's "Waterfalls" was released as a single in November 2012. "Slip" was released on 12 May 2013, it was a number 12 hit in the UK. Their debut album London With The Lights On debuted at number 8 in the UK Albums Chart on 2 June 2013. "My Man Music" was released 28 June 2013.
Stooshe's first single from their (unnanmed)
Sophomore album
, "
Lock Down
" was released on 15 January 2016. Stooshe announced "
Let It Go
" as the second official single and was released 1 July 2016. The album will be out sometime in 2017.
The Members Of Stooshe
Featured Videos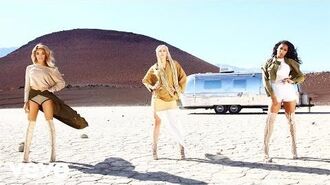 Twitter @Stooshe
Latest News
17th August 2016
Stooshe released a RedBull live acoustic session, performing "Let It Go" & "Love Is The Answer" http://t.co/UlrZj9sgHm
10 August 2016
Stooshe announced a remix for "Let It Go" by White N3rd, who also remixed "Lock Down".
2nd August 2016
Stooshe embark on a radio tour to promote "Let It Go".
1st July 2016
Stooshe release the video for "Let It Go" and announced that it is available for purchase from all major digital outlets.
The Singles
Ad blocker interference detected!
Wikia is a free-to-use site that makes money from advertising. We have a modified experience for viewers using ad blockers

Wikia is not accessible if you've made further modifications. Remove the custom ad blocker rule(s) and the page will load as expected.